As the landscape of the COVID-19 pandemic continues to evolve, there have been a comprehensive range of public health measures, aimed at trying to control and/or minimise the spread of Coronavirus in Australia. As such, many essential health services including dental care have had significant changes made to the way dental clinics and dentists operate over this period.
For the latest Victorian metropolitan Melbourne dental care restrictions, please read our COVID-19 Dental Care Restrictions Update.
Dental treatment restrictions in response to COVID-19
On 25th March, Level 3 restrictions came into effect with the recommendation that all routine dental treatments be deferred.
Since then, the Australian Health Protection Principal Committee (AHPPC) has advocated a gradual transition to back to usual operations. As of 8th May, there has been a further easing of restrictions and stepping back to Level 1 restrictions for dental practices. All dental services can now be provided under standard plus additional precautions for patients without any epidemiological and clinical risk factors for COVID-19. In line with the Australian Dental Association guidelines, under Level 1 restrictions dental clinics must continue to screen patients.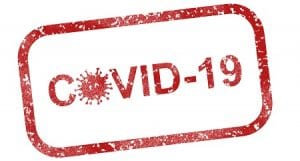 For patients at moderate risk of COVID-19 (due to epidemiological and clinical criteria), all non-urgent continues to be deferred as long as it will not negatively impact the dental or overall health of the patient. In addition to standard precautions, additional precautions remain in place for this patient group by only providing dental treatment that does not generate aerosols or whereby the aerosols are controlled with the use of a dental dam.
So, what aerosols are present in a dental practice?
Aerosols are defined as suspension of tiny particles or droplets dispersed in the air. Aerosols are created when high-powered dental equipment need to work in combination with compressed air and water. Known as dental aerosols, they can be derived from blood, saliva, tooth debris, dental plaque, calculus and dental restorative material. Most dental procedures have the potential for creating aerosols and splatter.
What instruments produce aerosol during a dental treatment?
Aerosols are produced from dental instruments such as ultrasonic scalers, dental handpieces, three-way syringes and other high-speed instruments.
What dental services are currently available?
Under the current Level 1 restrictions, as your local family dentist we can offer all dental treatments for people who do not meet epidemiological or clinical risk factors for COVID-19.
Restricted services apply for patients who meet the following clinical and epidemiological risk criteria for COVID-19, hence all non-urgent and routine dental treatments are to be deferred in accordance to national guidelines:
Clinical Criteria:
Fever (≥38°C) or history of fever (e.g. night sweats, chills) OR acute respiratory infection (e.g. cough, shortness of breath, sore throat)
Epidemiological criteria:
In the 14 days prior to illness onset:

Close contact with a confirmed or probable case
International or interstate travel
Passengers and crew who have travelled on a cruise ship
Healthcare, aged or residential care workers and staff with direct patient contact
People who have lived in or travelled through a geographically localised area with elevated risk of community transmission, as defined by public health authorities

Hospitalised patients, where no other clinical focus of infection or alternate explanation of the patient's illness is evident.
Is it safe to visit the dental clinic?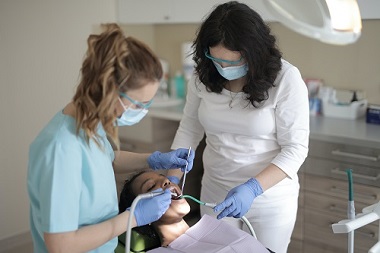 Australian dentists and dental clinics have the highest infection control standards in the world. Patient and staff safety are cornerstone of Australian dental practices. At current Level 1 restrictions, East Ringwood Dental Clinic remains vigilant in taking precautions in line with the ADA (Australian Dental Association) strict guidelines to ensure the safety of dental teams and patients alike.
Safety guidelines for dental practices include: alcohol based hand hygiene for patients and staff, use of personal protective equipment (PPE), sterilisation of dental tools, cleaning and decontamination of exposed surfaces, use of environmental barriers, social distancing, proper disposal of waste and sharps, procedural restrictions, as well as patient screening vetting which includes taking temperatures of patients.
Dental Care at East Ringwood Dental Clinic during COVID-19
At East Ringwood Dental Clinic, we remain committed to your dental health and continue to provide unrestricted and essential dental services. Please call our dental clinic on (03) 9870 8243 to discuss your dental needs and/or if you are unsure if any dental restrictions apply to your specific situation.
Under the current COVID-19 dental restrictions:
East Ringwood Dental Clinic is following the most up to date protocols mandated by the National Cabinet in accordance with the Australian Dental Association Managing COVID-19 Guidelines.
With the easing back of restrictions, we are currently rescheduling previously restricted dental procedures, so please stay in touch with us if your dental treatment had to be deferred.
Please continue to contact our dentists and dental clinic staff with your needs, so we can continue to assist and guide you through these unprecedented times.
If you have any dental concerns or queries, please do not hesitate to call our dental professionals at East Ringwood Dental Clinic for expert advice on (03) 9870 8243.