BDSc (Melb)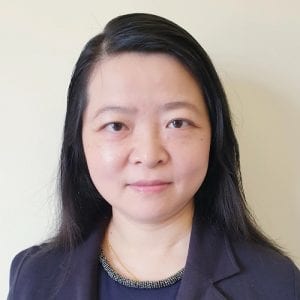 Dr Ying Chen is a highly skilled dentist with over 22 years' experience in all aspects of general dentistry, including cosmetic dentistry, endodontics, restorative dentistry, paediatric and preventive dentistry.  She obtained her Bachelor of Dental Science from the University of Melbourne in 1999.  Dr Chen garnered 7 years of professional experience at various private dental clinics before co-establishing the dental practice, East Ringwood Dental Clinic in the eastern suburbs of Melbourne in 2007.
Dr Ying Chen's dental expertise, caring, understanding and gentle nature are highly sought after by patients from all over Melbourne.  Dr Chen practices patient-centred care in her delivery of dental care.  She believes in taking the time to listen to patients' individual needs and wants, build rapport and trust, as well as work collaboratively with her patients to tailor the most desirable and effective dental treatment plans.

Through the years, Dr Chen has remained dedicated to exemplary patient care.  She is devoted to her passion of providing the best high-quality dental care for her patients, ensuring all patients experience exceptional individualised dental treatments.  Dr Chen also thoroughly enjoys treating patients of all ages.
Dr Ying Chen is devoted to the field of dentistry, regularly attending continuing education courses to keep abreast of the latest dental techniques.  Dr Chen ensures her skills and knowledge remain at the forefront of dental advancements, thus providing the most current and best possible dental treatments for her patients.  Dr Chen has more recently furthered her education in the areas of:
full mouth rehabilitation
minimally invasive restorative dentistry
implant dentistry
general and cosmetic dentistry
Dr Ying Chen is fluent in English and Mandarin (Chinese), having relocated at a young age with her family from China to Melbourne.
Besides her passion in dentistry, Dr Chen enjoys spending time with her three children, travelling, handicraft and baking.