"Providing Good Oral Health for Life"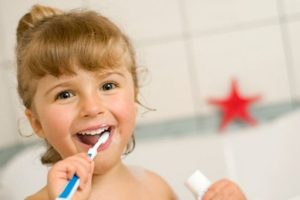 Oral health requirements change throughout every stage of life.  At East Ringwood Dental Clinic our highly qualified family dentists understand and support the individual needs of each member of your family.  With a passion for children's dental care and a holistic approach, East Ringwood Dental Clinic prides itself of its genuine interest in helping your children establish good oral habits for life.
What is Children's Dentistry?
Children's dentistry refers to all facets of dentistry with a focus on children's oral care and dental development.  Our gentle family dentists understand how to care for baby teeth, assess jaw bone structure and soft tissue (tongue, cheeks, lips and throat) development.  At East Ringwood Dental Clinic, our family dentists focus on employing preventive dentistry measures; as well as diagnose dental problems and recommend required dental treatments that are specific to ensuring and maintaining excellent children's oral health.
When to start taking your child to the dentist?
It is never too early to start bringing your children to the dental clinic to familiarise them with the environment and the dental check-up process.  In general, children should begin to visit the family dentist when their first tooth erupts or latest by the age of two years, whichever comes first. This ensures our family dentists are able to track their dental development, monitor teeth growth for early detection of any potential dental developmental and orthodontic issues (minimising any possible need for braces later on) and to establish good oral hygiene with your child from a young age.  Our highly experienced children's dentists are able to employ early intervention dentistry and orthodontics if it is necessary for good oral function and smile aesthetics.
How often should my child have a dental check-up?
At East Ringwood Dental Clinic, we recommend a dental check-up with our children's dentists every six months from the age of two years or when their first teeth emerges (whichever comes first).
Oral hygiene is important in early years, to prevent tooth decay and gum disease. Regular dental check-ups allows your family dentist at East Ringwood Dental Clinic to help your child(ren) prevent and treat decay before it causes cavities and toothache.
Cleaning teeth is fun at East Ringwood Dental Clinic
Establishing excellent oral hygiene is important from a young age, hence the specialised dentists at East Ringwood Dental Clinic always show children how to best clean their teeth.
When teaching children good oral hygiene, it goes beyond showing them good brush strokes and flossing, we may even paint their teeth pink or purple to show them where the dirt on the teeth is to best help them learn the best way to remove it!  The sight of painted teeth can certainly help get children into action and relieve mums and dads having to 'nag'!
Children's Dentistry Services – Ringwood
At East Ringwood Dental Clinic, our expert family dentists offer a comprehensive range of children's dental services and treatments, including:
Assessment of erupted teeth
Assessment of the development of the jaw
Monitoring of tooth growth (both baby and permanent teeth)
Checks for spacing of permanent teeth
Checks for tooth cavities
Assessment of children's bite (and if orthodontics may be required later on)
Dento-Maxillofacial (dentofacial) Orthopaedics
Interceptive Orthodontics
Treatment of bruxism (teeth grinding) and provision of occlusal splints
Provision of mouthguards
Detection of early warning signs of abnormal development
Check of health of soft tissues (tongue, cheeks, lips and throat)
Advice on preventative care
Advice on proper care for teeth and gums (incl. brushing and flossing techniques)
Development of good oral habits
Fluoride treatments
Fissure sealants (appropriate if there is a higher risk of cavities developing or as a preventative measure)
General routine check-ups and examinations
Scale and clean
X-rays (as required)
The caring dentists at East Ringwood Dental Clinic love working with children and cherish the opportunity to assist parents and their children to reduce the risk of dental decay, gum disease and to improve efficient oral hygiene at home.
Your child's check-up is thorough and conducted in a child-friendly and relaxed environment, whereby our caring dentists spend the time to help the children build their trust and confidence in the process with the opportunity to familiarise themselves with the dental equipment, so they see the children's dentist experience and oral care as fun and important.
To make a booking or enquire about our children's dental services at East Ringwood Dental Clinic, please call us on (03) 9870 8243 or send us an email via the Contact Us page.  We look forward to looking after your child's teeth.
DID YOU KNOW about financial assistance for CHILDREN'S DENTAL SERVICES Ringwood?
Families can access government dental benefits to assist them with the cost of children's dental services.  Our gentle children's dentists look forward to caring for you and your children's dental needs.  For further information on Child Dental Benefits Schedule for children's dental services in Ringwood, please click here.